Is the Thoroughbred Makeover
For Me?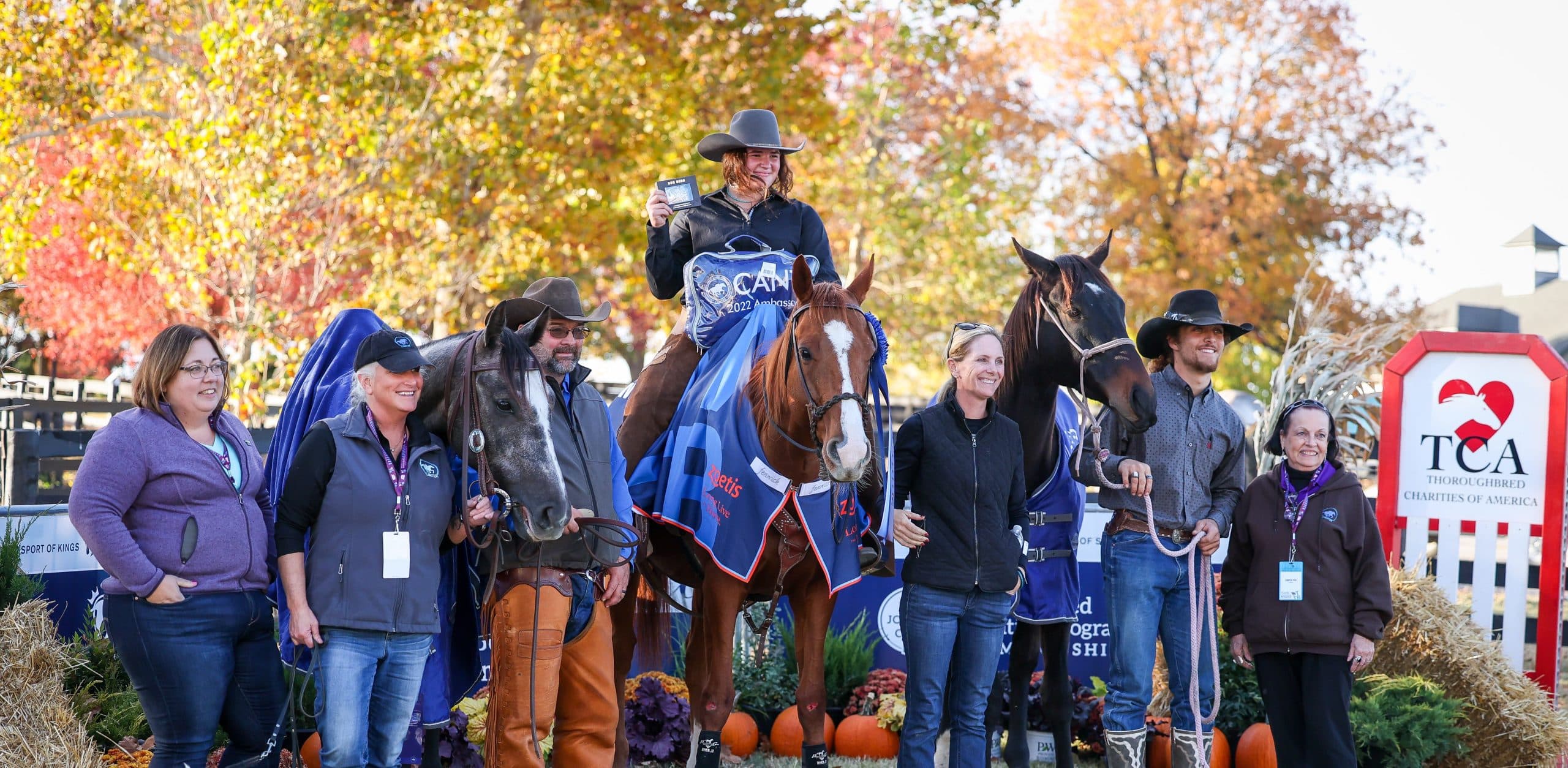 ---
The Thoroughbred Makeover is a one-of-a-kind experience:
A big show atmosphere at a premier venue in the heart of the Thoroughbred industry

The largest and most lucrative Thoroughbred retraining competition in the world

The marquee event in support of the RRP's charitable mission of increasing demand for Thoroughbreds after racing

A unique first-year-off-the-track goal for you and your OTTB


A welcoming and supportive community

A week of networking, education and fun with those new-found friends

And the country's premier shopping opportunity for Thoroughbred sport horse prospects
It is for these reasons and more that over 3,000 trainers have entered this competition since 2015 and whole lot of them keep coming back.
But it's also a big commitment of all kinds of resources: money, time, and emotion. The fees you pay to the RRP to participate are reasonable for an event and venue of this nature and are probably the smallest part of the investment you'll make over the course of the year. You're acquiring a horse and paying to board, train, and care for that horse through its transition to post-track life. You'll experience highs and lows, training breakthroughs and possible soundness hiccups -- and that's just the road to Kentucky in October. The week of the event is a week away from work and family with the expenses of travel. The tests asked of your horse at the Makeover are not for beginner or casual riders and require talent, tact, commitment, and patience from you. You need to be your horse's (and your own) biggest advocate. Because of the realities of training horses, you could put in all this work and your horse might tell you they're not ready come October, or you might have something happen in your personal life and not make it to the Makeover at all.
Our advice? Familiarize yourself with the event policies and competition formats. Don't buy a horse JUST for the purposes of competing -- find a prospect that you want to hang on to, or that fits into your business model. Consider if you have all the resources so do right by your horse, Makeover or not. If this all still seems realistic to you, do it! Because there's nothing more gratifying than the horse you will have produced by the end of it.
The purpose of the application process is for the RRP to make the best possible determination that you are capable of safely and competently restarting a Thoroughbred in your primary discipline of experience. The application asks for basic information about you, your experience riding and training horses, your competition history (if applicable), video of your riding, a letter of recommendation from your vet, and contact information for peers who will give you a positive recommendation. This information helps our application committee form an accurate assessment of your abilities. Below are some resources to help you put together a complete and comprehensive application.
For 2023, the application can be viewed and worked on as a draft starting on December 15th, 2022 through January 2nd, 2023. You'll be able to work on your application and gather your materials, and save your work during this time. From January 2nd through the 20th, you'll be able to submit your application (with vet recommendation, video, references, and competitor agreement).

Please note that registration and entry fees have changed; this is the first adjustment to fees since 2019. Learn more about the updated fee schedule here.
Registration fees due at time of application:
$200 one-time annual trainer application fee, regardless of trainer status (individual, team captain, or team member)
$150 horse registration fee per horse, billed to individuals and team captains
Have questions or need help?
Contact us via
secretary@tbmakeover.org
or 410-798-5140. Our office hours are Monday to Friday, 9 AM to 5 PM and our staff are always happy to help!